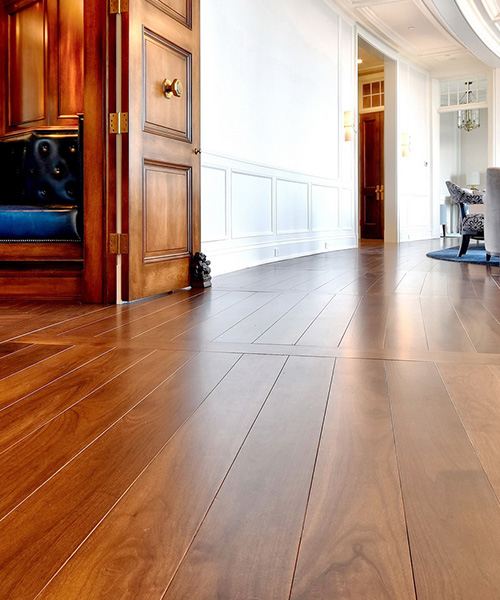 See gallery
Custom or designer hardwood floor can be extremely unique with a variety of wood species, colors, textures, and finishes we have in our offer. Being on the market for over 25 years, we have worked with a number of architects and designers to complete exactly what our home or business owners want: a beautiful, durable investment that increases the value of their home or business.
Hardwood flooring is one of the most popular types of residential flooring, however, in a few last years due to newer technologies we have noticed a growing popularity of hardwood floors among business woners. There a few important reasons why more and more home and business owners choose hardwood floor:
Hardwood floors are easy to clean.
Hardwood floors are ideal for allergy sufferers as they do not promote dust or
harbor dust mites.
Hardwood flooring is longest-lasting. Although there is a 25-year structural warranty on hardwood floors, many hardwood floors last for decades longer.
Hardwood flooring will increase value of your property.
We encourage our clients to explore combinations of different woods crafted in exquisite designer-inspired collections. They can be insterted into wood or stone floor, new or existing construction. If you have a special project, we can help with custom design service from one of many designers and/or architects we have been working with for the last 25 years.
Besides custom and designer floors, we also provide our clients with
Custom made inlays
Custom made borders
Hand-scraped flooring
For questions, to request an estimate, or to learn more about our flooring services, contact our office.
Red Oak Hardwood Floor is your choice for wood floor excellence!
Contact Us