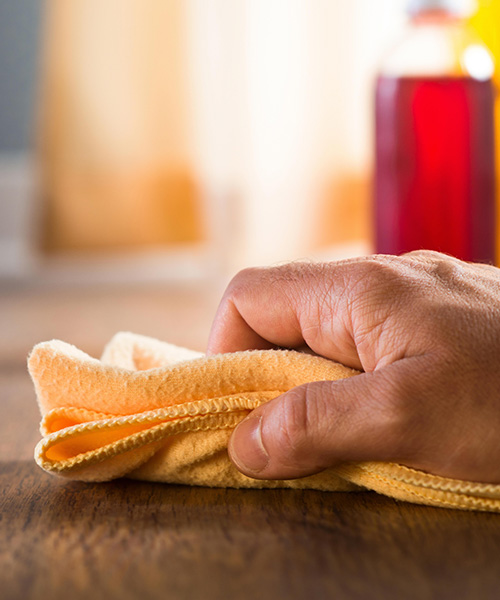 See gallery
Maintenance service
Wood is a dynamic medium. Like all organic materials, it has character and quirks, responds to its environment, and changes over time. Because of its "personality," wood should be treated with understanding and a certain amount of care.
For wood flooring professionals, knowing about the properties of wood in general, as well as those of individual wood species, is critical to proper installation. For consumers, it's important to have realistic expectations about how wood will perform.
At Red Oak Hardwood Floor we provide our clients with hardwood flooring maintenance service, although the best way of caring for a hardwood floor is to care using common sense. Most of fundamental procedures can be performed by home or business owners themselves and with today's advances in wood flooring stains and finishes, cleaning wood floors has never been easier:
Wipe spills immediately.
Avoid athletic spikes.
Clip your pet's nails as they can scratch your floor.
Use protective pads on furniture legs to protect hardwood floor surface.
Use area rugs and runners in high traffic areas, but make sure rugs are kept dry and clean to avoid dirt abrasion between rug and floor finish.
Vacuum regularly, sweep and dry mop your floor to cut down on possible scratches caused by grit on the surface of the floor.
Use quality hardwood floor cleaners ONLY, avoid ammonia and vinegar. We recommend two top-quality cleaning solutions: DuraSeal® Hardwood Cleaner and Poloplaz® Hardwood Cleaner.
Other services
Concrete leveling.
Wood sub floor leveling.
Repairs of solid flooring.
Repairs of engineered flooring.
Restoration of old hardwood floors (as old as 100+ years).
Repairs of prefinished flooring (using Micro Graphics Technology).
For questions, to request an estimate, or to learn more about our flooring services, contact our office.
Red Oak Hardwood Floor is your choice for wood floor excellence!
Contact Us